The fight to stop Keystone XL has brought together the largest environmental groups in America. Big names like the Sierra Club, NRDC, Greenpeace. And also our client – Environmental Action.
When the Public Interest Network decided to reboot Environmental Action a couple years ago, they needed a big overhaul. Born at the first Earth Day in 1970, Environmental Action has been kicking butt for the planet for over 40 years. But it needed a rebuild – and a new program that was focused on engaging online action and powerful on-the ground actions.
We've helped them launch a brand new website, design engaging actions, and plan on-the-ground events that show real results. Working with PowerThru, they've added over 150,000 new email subscribers to their list in under 2 years, and become a major national force in the fights to stop Keystone XL, fix global warming, and save wolves and other species from extinction.

Even though we've helped them grow their list of activists exponentially, their list was still much smaller than a lot of the international well-known environmental partner groups.
So when it came time to pull together as a movement and set a goal of sending over 1 million comments to the State Department opposing KXL, I had a crisis of confidence. Could I, or in this case, WE make a difference? The answer, you will be happy to know, is yes. As I write this we have exceeded our goal of 30,000 comments. And remarkably, out of more than 20 groups participating, we were smack in the middle in terms of total comments. Even though Environmental Action's list is a fraction of the size of many of our partners, we were in the top-10 for actual signers.
How did we do it? Here are 5 answers, all of which add up to one simple point: Political effectiveness is not about the size of your list – it's about the activity of your most ardent members.

1) Target! Like with any campaign, when we started asking for comments we didn't know how members would react. Sure, Environmental Action had history opposing the KXl pipeline. And we knew the members opposed Big Oil. But would they get why we were talking to the State Department, and not President Obama? Would they be convinced to comment on a report that was already fatally flawed and in favor of the pipeline? Happily the answer was a resounding "Yes!" But we would not have known that if we hadn't sent to our dedicated climate activists first. Convincing this active and engaged segment of our list to take action first got us sky high open rates, and ensured a healthy base of support and social media conversation before we ever asked 70% of the email list –  which also had amazing response with open rates over 50%, and almost 3/4 of openers clicking through to comment.
2) Don't be afraid to come back for more. Once it was clear that this action WAS a hit with members, we sent it again to non-action takers, and to people who have been inactive for a while, figuring if anything could get them back and active, this was it. Eventually, every member of the email list saw a message 2-3 times asking them to comment or share the action. This is important to remember if you're nervous about our advice to never blast your whole list: if something is a real hit, you can still send it to everyone – it's just essential to be smart about it, and only send content that's already tested and effective.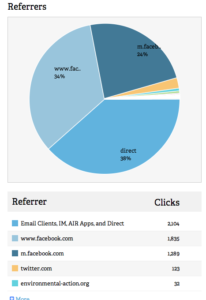 3) Ask for what you need. We could have sent out an email every day: "Sign now!" "You didn't sign yet" "How about now!" But at a certain point it wouldn't have been worth the cost in list fatigue: As you email more and more, you always see diminishing returns in open and click rates, as well as an increase in unsubscribes and inattention (both of which cost you dearly in terms of deliverability and audience). And of course there's the opportunity cost of not being able to send a different email on another subject (Environmental Action has other pressing campaigns to save wolves, and tell people why Exxon hates their children). Instead of sending an email a day, we sent several blasts over the 4 week comment period – each one telling a new piece of the story about why to comment on Keystone this week. Some of them had breaking news like the Mayflower Spill in Arkansas. But a lot of them were planned weeks in advance, like my trip to a Delaware 'accountability' rally (see below). Planning email campaigns (sometimes called Arcs) a few weeks in advance to include major story items and plot points is really important – and effective!
4) Keep track of the virality of your campaign. As good as this campaign was with existing members, it was not our best-ever email. But where the Keystone action truly shone was in how many people shared it on email and social media. Ultimately, while engaging your existing list is crucial, the higher goal is always to reach more people. We maximized shares by including easy tools as the after-action step in the daisy chain, and by repeatedly asking signers to tell their friends in an auto-trigger, and in follow up messages. Lots more good advice on how to use social media to boost your campaign is available here.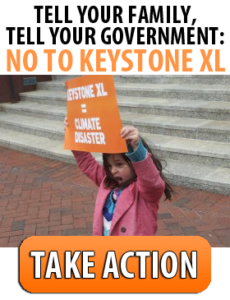 5) It's helpful to do something IRL (in real life.) The first email of our campaign was good but not spectacular. When my daughter and I attended a Keystone XL rally, things really took off. Now I can tell you, with complete impartiality, that no one in the universe is as cute as my daughter, see? But even if you don't have a cute kid, you can document things happening in the real world and to real people. When you do, you give members a compelling new reason to support you online. In fact that is one of the greatest aspects of online organizing, the way people can support you from afar.
This action renewed my conviction that a well-executed online program can make a bigger difference than a huge list or a bank account full of money (though those things are both important, and PowerThru can also help you build those). People have not given up on making change, and if we approach them smartly and respectfully, they will take action with us to do incredible work. You don't need a million people on your email list to have a huge impact – you need the right people.
Need help building your online program, and using it to make a difference for your organization? Contact PowerThru today!