As you may have seen elsewhere I recently resigned as Director at Environmental Action after 5 years building a big, powerful, digitally focussed environmental group. It's a decision I made with some reservations and emotion, but this isn't the post where I intend to have all the feels. This is a post where I intend to talk about HOW we did all the amazing stuff we did over the last 5 years. Specifically, growing the email list from 40,000 mostly worthless (bouncing) emails, to nearly a million gross records. And also how we used that big, digital audience to raise the majority of our budget in the form of nearly $1 million a year in online and recurring donations.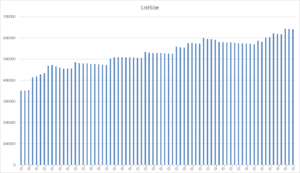 It turns out that growing a digital audience is actually an incredibly fast and efficient way to build power around issues like climate change, fracking, endangered species and clean water – and it can be done in a revenue-neutral way/cash positive manner. Explaining the whole process in one post will be hard, so I'll break this into a few (to keep my Hemingway-app editors happy) and this one will kick things off and link to all the good, data-driven bits.
So first of all, let's talk about what we're talking about: The Environmental Action way can be boiled down to a simple thesis: you (yes you!) can double the size of your email list ~every 12 months, while raising ~$1 from each of those list members every 18 months.
Why do you care? Well if you're an Executive Director, that means you can create an army (literally hundreds of thousands of people) in less time than you can re-apply from that last foundation that rejected you. For Alinsky-ite organizers, it means you can use the digital toolbox to develop sustainable campaigns with a full ladder of engagement, leaders at every level and stable funding from the people who benefit/are invested in your program. For Piven-inspired movement bomb-throwers think of this as an instruction manual for how to build a list of followers bigger than the average nightly viewership of a CNN program.
For everyone else just consider this: As activists our power comes from organized people, as opposed to organized money (though getting those people to organize their money – either by donating to a campaign, divesting or boycotting  an industry or pooling resources to create our own economic power – is a really important and time-honored set of  tactics). The digital toolbox offers us a new and proven-effective way to organize more people than ever before, faster than used to be possible, with bigger results. After the jump, we'll lay out the how-to and link to specific trainings and tutorials in each step.
So, you want to make a revolution online?
Cool. If you want to do it like we did at Environmental Action there are 4 metrics that matter:
The Engagement of that list and audience;
How much money you raise online; And
Delivering real, visible progress in coalition with allies – Staging a rally or protest, winning a vote or lawsuit, or major media attention are all examples.
Click the links above to see my write up about each of those metrics and how to build success day by day. In doing that, you should be able to pick up our basic drill and how we operate. If you live the practice (like kung fu!) then you'll absorb the knowledge and magic that has grown Environmental Action into one of the biggest environmental groups online in the last few years.