Too many political campaigns box themselves in with new media by deciding it serves only some limited purposes: contributions, volunteers, etc… We helped Omaha Mayor Jim Suttle do all that in his re-election bid. But as our work for him proved, new media can actually be used by political campaigns to do so much more. In this case, shaming an opponent (then-Councilwoman Jean Stothert) to stop stalling critical job creation legislation in Omaha.

Jim Suttle was originally elected Mayor of Omaha in 2009 and ran for re-election in 2013. This time, he called on the PowerThru team to plan, grow, and cultivate his online following in Omaha. We helped his campaign build their email list, raise a ton of online donations, spread their message online and build a beautiful new campaign website with NationBuilder. But that's not all we did.
Here's the story: the Ames-Locust Industrial Park project was a plan to bring hundreds of good-paying jobs to a part of Omaha with the highest unemployment.
Problem is that Councilwoman Jean Stothert (the opponent of Mayor Suttle in his re-election campaign) was stalling the jobs bill on the City Council. Stothert had taken large contributions from the current owner of the land, and was playing politics because this project would make Mayor Suttle look strong.
Councilwoman Stothert was able to use her influence on the City Council to stall the project, and was plotting to stall it again as another vote to approve it was coming up on February 11th. But that was when we leapt into action.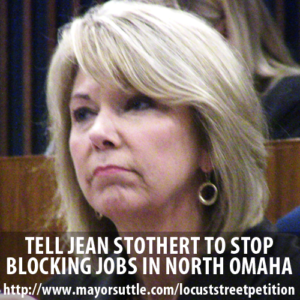 This time, Mayor Suttle authorized PowerThru (we were doing his new media for the campaign at the time) to quote "shame" Councilwoman Stothert into doing the right thing. We started by launching a simple online petition using NationBuilder, and sent an email to our campaign list. It wasn't a big goal (only 1,000 signatures, which we shattered!). The numbers weren't important because this was about shaming Councilwoman Stothert into doing the right thing, framing the narrative that only Mayor Suttle cared about creating jobs (which had the added benefit of being factually accurate) and, ultimately, helping hundreds of hardworking people find good jobs.
The next step was a series of social media graphics — which not only went viral (reaching an estimated 85,000 people on Facebook alone that week), but caught the attention of the press and, believe it or not, our opponent.
As each one went viral (the one to the left was shared over 100 times in less than an hour on Mayor Suttle's Facebook page.) Stothert's campaign began to lash out. Her staff started posting nonsense on the official campaign Facebook page and Councilwoman Stothert herself responded on my Facebook:
I'm pretty sure posting on the Facebook page of your opponent's new media guy has a negative ROI.
As we continued to pile on with tweets, additional memes, TAF campaigns, and the threat of a petition delivery, the press began to pick up on the story — while right-wing Republicans began accusing us of Saul Alinsky-esque tactics. (Not to forget being called by name a "communist Obama-loving tech type" by nasty commentators on the local conservative blog.)
Our plan had been to shame the opposition and highlight her stalling of a critical jobs bill. Annoying the campaign into trolling our Facebook pages was just gravy for us. And sure enough, when the vote came up on February 11th, it moved from a 3-4 stall of the jobs bill to a 7-0 victory for the good guys. With this moving to the Mayor's desk, it was a guarantee that hundreds of good jobs were coming to North Omaha.
This just proves that new media has the power to be something more for campaigns than just fundraising. Yes, raising money is important (and we did plenty for Mayor Suttle) but we also used the organization we had built up from scratch to do something meaningful. As a resident of Omaha, I cannot wait to see what businesses come to Ames-Locust — because a little part of me likes to think I helped build that.
Adding to this discussion are some notes about how to replicate the success of this on your campaign. Of course, you could always just give us a call too because PowerThru is ready to help your campaign as well.
1) Bold wins. Too many campaigns are tepid in situations like this, but people are looking to be inspired by something. In this instance, it was Mayor Suttle taking the fight on the injustice of Councilwoman Stothert blocking the jobs bill. Sometimes you need to be cautious, but if you really want to get your new media campaigns going you need to be bold or it'll be forgotten fast. We didn't reinvent the wheel here, but these are tactics that are rarely used on this level of government and that made it effective. The shock value was very important.
2) It doesn't have to look pretty. We made a lot of nice looking, clean graphics for Mayor Suttle, but the ones we posted for this action were gritty and quick to the point. That sells. Most of the time, being direct is the simplest way to capture an audience. More often than not, simple is the best way to go.
3) SHAME! Shaming Stothert was a big part of this campaign. We were not afraid to go directly at her and call out what she was doing. This was not a time to be tepid in our approach to the opposition. We hammered her for days online and in the press and that ultimately forced her to make the right decision.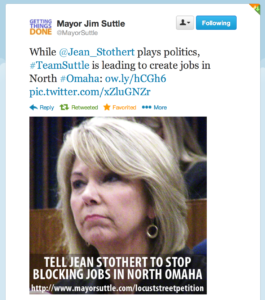 4) Good-faith organizing. Always make sure you are selling a solid theory of change and ensuring that people know why the actions they are taking are so important. Too many campaigns are throwing up random petitions just because, and that is bad for online organizing across the board. Make sure you thank supporters every chance you get — and when you win, go back and tell them they made the difference. It's an easy thing to do with a huge upside, and it's also always true. Why more campaigns and organizations don't do this is beyond me. (More tips for successful online advocacy for your campaign or organization on our blog here.)
In summation, even though Mayor Suttle fell short in his re-election bid, we were able to utilize the attention being paid to the campaign as well as the new media infrastructure we had built to do some good for hundreds of people in North Omaha. It's a small victory, but one we at PowerThru are happy to have.
Want help using social media to make a difference for your campaign? Interested in shaming an elected official to do the right thing? Contact PowerThru!