RootsAction is the cool new kid on the online organizing block. They're a new advocacy non-profit online initiative dedicated to galvanizing millions of Americans who are committed to economic fairness, equal rights, civil liberties, environmental protection — and defunding endless wars. Started by progressive heroes and endorsed by left-wing luminaries like Cornel West, Naomi Klein and Jim Hightower, they were looking to go from a good idea to one of the country's leading online advocacy groups in 12 months. Starting from 0, they needed help to build their email list of supporters and supporter base on social media.
So they brought in PowerThru — to help brainstorm ideas that can electrify members, social media advertising campaigns that recruit followers, and tech solutions and strategies that make it all as simple as a mouse click. And the best part is, it worked! Since we started working together their email list size has doubled again and again. And their Facebook fans went from ~3,000 to over ~10,000 within two weeks, then doubling again the following month to over 20,000 fans.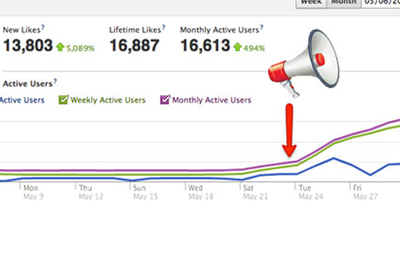 How did we do it? To grow social media to email conversions, we built a customized welcome tab with email signup in Facebook, that put new supporter records directly into their Salsa CRM database. We also designed and executed an initial two week Facebook ad campaign, driving traffic to the page – resulting in a significant burst of new fans and new email signups. We then switched our focus to list building, running periodic Facebook ad campaigns around whichever Salsa actions or hot issues they were focusing on at the time.
To increase email to social media conversions, we also worked with RootsAction to message their email list and ask their existing supporters to join the social conversation. We helped design signup pages in Salsa that included auto-triggered welcome emails for new people customized based on HOW they joined RootsAction's network – one version for people who sign up on the website, and one for signups via Facebook, for example. We built some custom sharing pages in Salsa using our Tell A Friend tool (available here) to help members recommend RootsAction's work to their friends and family online with the push of a button – right after they've signed up. To boost engagement, we always include tell a friend "thank you" sharing pages for after a supporter completes an action (see example here) or makes a donation, to help spread the word via social media too.
We also helped RootsAction grow their list via strategic partnerships with other non-profit activist allies on hot issues, and worked with great organizations like Democrats.com and Change.org. RootsAction is well on their way to their growth goals for 2011, and is making a difference online and offline.