These days you're missing out if you don't also ask your supporters to spread the word using social media tools like Facebook and Twitter. Doing that is actually pretty hard if you're using the basic Salsa TAF tool – there's no way to include a "Tweet this" or "Post to your wall" link on your TAF page and control the info you want shared. Our Social Media Tell A Friend ("SM-TAF") tool for Salsa makes social media sharing very simple, and will boost your shares. Note: you can also combine this tool with our Goalometer tool to create beautiful tell a friend pages that have goal thermometers on them, to boost sharing even more!

This tool is available separately or as a part of our PowerTools package for Salsa (read more about the rest of our tools for Salsa, and buy as a package).
Have more questions? Send us an email today. Or buy now via credit card:
We have made an upgrade to our existing Social Media tell a friend tool with this new version, by adding two new fields. These two new fields are designed to improve Facebook sharing. One new field will allow you to specify a Facebook-specific title, if you would like the title on the share to be different from the title of the action page. There is also a field to specify an image for Facebook to use while displaying the share post.
For existing users of the tool, there are some setup steps you need to do to turn on this functionality. One step is creating the two new fields to your center, which is done by using the installer inside of the package. The other step is adding several new lines of code to the Salsa script which lives on your action template.
Organizations which have purchased the Social Media TAF package will have all the setup steps completed by PowerThru inside of your Salsa center.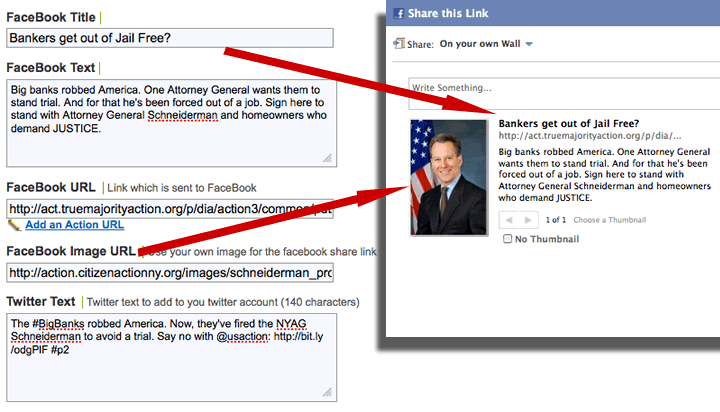 Examples of our tool in action:
RootsAction tell a friend page (redirected here after signing a petition)