Here'sexactly how we built Environmental Action from a mostly dead and bouncing list of 40,000 email addresses to nearly 1 million members donating hundreds of thousands of dollars.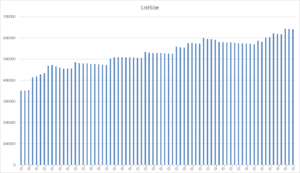 As I explained in the initial post, building a big audience is the first step towards building an online army for your non-profit, campaign, or movement. And having a big, engaged, financially invested audience is THE way you can use digital tools to deliver real results on the issues you care about.
First, let's talk about why email list size is still the most important metric to measure when thinking about the size and reach of your digital audience. Email is still the killer app of the internet – it's the best and fastest way to raise money, get out a message, or generate action (like people calling their Congressperson, or showing up at a rally).
Social media is awesome too, and essential in this day and age. But it tends to act more like a specially designed megaphone at a rally – it spreads the message wider to people at the fringes of your cause. But social media won't always get someone you don't know to the right street corner at the right time to make a difference. In fact, digital organizing won't reach anyone at all unless they're already connected to you in some way. And email is the most ubiquitous way to invite people to the right corner at the right time.
So list growth was job #1 for me and everyone who worked for me at Environmental Action. When we started, PowerThru and I were it – we had our wits, our skills and a little bit of startup money to prove that this thing worked. Over the years we've added more staff, and tons of projects and partners — all of whom helped with list growth in various ways. But there were only 3 primary ways (marketers call them funnels) that helped us add new members to the list:
Organic Growth; Swaps and joint actions; And paid advertising and acquisition. We'll talk about each in turn below.
Organic growth
This is achieved first and foremost by writing good and compelling emails, petitions, and social media content. You should not underestimate how hard it is to write good and compelling content.
How much content? Well if you want to grow fast, and that's what we're talking about here, you need to plan on at least 3 emails a week, 2-4 Facebook posts a day, and as many tweets and re-tweets as your thumbs can type (at least 5 a day). Depending on your campaign, you may also want to add social media channels and accounts — like YouTube, Snapchat, Instagram, LinkedIn or Pinterest. In other words, if you want to do this right, you need to make it someone (and preferably more than one person's) FULL-TIME JOB.
Since everyone should use the big three: Email, Facebook, and Twitter — that's what I'll focus on. Once you've got good people talking about things that matter in a compelling way, you need to spend time on sharing that content. The biggest tool in Environmental Action's toolbox was using our social media tell-a-friend tool.
The tool let us design the Facebook share content (image, headline, caption and link), the sample tweet (editable by users) and the forward to a friend email. Really good campaigns like our petitions opposing the Keystone veto override had a share rate greater than 10%. That means the number of times the link was shared through social media =1/10 of the number of people who signed the petition. 
Of the three sharing options (Facebook, Twitter, email), Facebook usually accounts for 80% or more of all shares. If I saw a campaign with a 5% or higher share rate, I would also schedule an email that just links to the share content for all the signers (we call this a 'tell-a-friend bump') to make sure that as many people as possible saw that sample Facebook/Twitter email message because it's already working..
List swaps/joint actions
These are campaigns where we partner with one or more other groups and share the names collected. For my experience, the best and most profitable (in terms of new names) campaigns have been joint actions between us and Daily Kos — the liberal blogging powerhouse administered (the email team anyway) by the inestimable Chris Bowers who literally just wrote the book on the power of big email lists.
Chris explains it better in his Netroots notes, but this is where Kos and a bunch of other groups all agree to promote a common petition (like calling on the Dem candidates to debate in Flint and talk about water issues, or calling on CNN to cover climate change). Each partner group gets a tracking link like www.signforgood.com/wateract/?code=EA and then we all promote the petition for a certain period of time; usually 2-5 weeks. Each group can send as many emails as they want, and use whatever language they want to encourage members to sign the petition.

My advice is to send an initial email to your most-relevant issue segment and check performance. Assuming average-better engagement rates, you can then re-send the email to either similar segments or to the whole rest of the list. If open and click rates for those segments are at or above norms you should also schedule 1-2 additional "did you see this?" style blasts to non-openers. While a swap is live, I also always schedule 3+ Facebook posts on the campaign each week.
Following these steps, Environmental Action could generally expect 10-20,000 signatures. Bigger/better campaigns, or ones that we send to the entire list I'd expect to generate 30-40,000 signatures. Stop right here and consider that: IS there an issue you're working on that could benefit from 10-40,000 individual email signers? Right. That's the power of the Environmental Action way of list growth.

At the end of a swap campaign with Kos or similar partners, each organization gets back 2 files:
All the signers through your tracked link, and

An equal number of signatures WITHOUT your tracked link that are not already on your email list.
(Note -the trick to sharing all those emails is an encrypted file of your list called a "hash" file. You can geek out on encryption here, but most folks just use the Change.org Svenn tool.
The match is never perfect because some people sign via Facebook and social media shares and other details. But basically follow Chris' advice (and mine) and VOILA! 10s of thousands of new members every few weeks – and all you had to do was come up with a campaign and remember to share your toys with the other kids.
Ads and Acquisition –  
We've written a bunch of how-tos  about how we spend money to add new names to the email list over the years, so I won't re-belabor the whole process and math here in this memo (Though here's the one that deals most directly with the Environmental Action Way of running ads) The principle is that one email address is worth about $1 in fundraising, on average. Obviously, not all list members give money. And some members give a lot more than $1/24 months.
But in principle, if I can figure out a way to spend $1 to add 1 new email to my list, I'll probably break even in the near-long term

For acquisition, the game is simple – lots of people will sell you lists. Most lists they sell are crap and not worth any money. If you see someone promising to sell your 50,000 emails for $500 it's a scam, every time. Reputable list vendors, all of whom Environmental Action used over the years, include Care2, and Daily Kos for starters. The key here is that these platforms sell you real opt-in or double opt-in names. In other words people are notified they'll join your list and have an option not to sign or to un-check an opt-in box  on real campaigns.

For Ads – The how to can be more complex, but the rates are the same – you want to add new records at <$1/email signup. The simplest place to start, and the most reliable results, are on Facebook. Here's how it works:
Use the instructions here to set up upload your entire email list as a custom audience. You'll EXclude that list (or as many as FB matches) from your ad audience.

Create a lookalike audience based on that email list. How big depends on your goals, but more like 1% than 100% of available users. These are the friends and family of the people who've already signed-on to your email list. You'll target your ads to this list, remembering to exclude the list from the previous bullet (and maybe add some additional targeting specifics, like people who like 350.org's page for a climate campaign, or Defenders of Wildlife for a wildlife campaign).

Create a copy of the petition/action you want your ads to point to – and add some sort of notation to the reference name, so you know which signers are from ads and which from viral traffic – but leave all the other settings (including, most important the Tell-a-friend link at the end) the same.

Once you've got the audiences and tracking codes created, it's all about the ads!

I like to make image or video ads, so I make (or repurpose for Facebook

following ad guidelines here

) 3-5 versions of ad images or videos (especially Facebook Live). For each post you need a short Headline, description, and caption. Then include the link to the copy of the action link you created in the preceding step. It's the same basic process as making a Facebook post – in fact, if you prefer, you can just post according to your regular social media calendar, and then promote the posts that do best or you like the best to your target audience (though you can't EXclude audiences in a promoted post, so you might want to add a #3 above and create an audience that's your lookalike, minus your email list, and throw in some additional factors — like people who like 350.org's page etc).

On campaigns that are pretty high performing and viral (like more than 20,000 organic signers) we've had good luck at generating new sign-ups at about $0.50/each and new to list signers at $0.75-1.25.
That's it!
Use those 3 major funnels: Organic Growth, List swaps and paid ads/acquisition, and use them SMART – starting with compelling and diverse content – and you too can double the size of your email list every year.
Got a better idea? want to send us your questions and suggestions? Hit me and the rest of the Powerthru team up on Facebook and Twitter with more ideas and stay tuned for another "Environmental Action Way" post next week.