Our Goal-O-Meter package for Salsa enables an organization to display an auto-updating "goal thermometer" on a donation page or an advocacy page, or even a tell a friend page. The goal thermometer includes a numeric goal, current total, and a graphical representative of that in a thermometer graphic. The Goal-O-Meter can be displayed horizontally or vertically and can be displayed in two sizes, small and large.

"Thank you for your help installing the goal-o-meter! We had a record breaking year-end fundraising drive and I give a lot of credit to the goal-o-meter. We weren't able to implement as robust of A/B tests that I would have liked but we did see a statistically significant (@90%) lift with the goal-o-meter vs pages without it." – Randall Smith, Corporate Accountability International
This tool is available separately or as a part of our PowerTools package for Salsa (read more about the rest of our tools for Salsa, and buy as a package).
Have more questions? Send us an email today. Or buy now via credit card:
Examples of our Goal-O-Meter tool in action:
RootsAction donation campaign, medium size thermometer
Click to enlarge screen shot of the back end in Salsa below.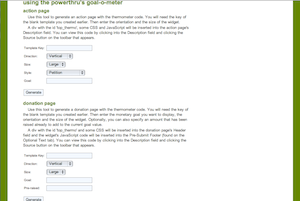 Here are two graphical examples of our goal thermometer: