If you're launching a new non-profit or campaign, there's a lot that needs to be done digitally to start (more tips here on how to successfully launch your campaign or non-profit) but I wanted to talk about social media in particular, since it's the piece that candidates — or executive directors are likely to get tunnel vision on.
Why social media? It's where the people are. As of August 2017, two-thirds (67%) of Americans report that they get at least some of their news on social media – with 2 in 10 doing so often, according to a new survey from Pew Research Center. Sharing your content via social media can help you reach new audiences, as well as existing supporters.

Approach social media with your campaign or non-profit organization's end goals in mind — it can be a huge time suck if you aren't focused on what you're trying to accomplish! Also make sure your candidate or executive director doesn't fall in love with vanity metrics. There are better places to put your limited organizational budget than driving up the number of Twitter followers (who aren't in your district or don't care about your issue). If you can't fight the power, then at least try to focus their gaze on slightly more meaningful metrics such as engagement or reach.
It's also not the best tool to reach undecided people (unless you have an ad budget), because the people most motivated to seek you out on social media are your diehard fans (or enemies)—unless your content goes viral and reaches people outside your supporter bubble. It's also often hard to fundraise from directly. However it is a great way to build and engage your base, by interacting with your most dedicated supporters. It's also a good way to share breaking news quickly. In the end, you'll need to balance the time commitment versus what you get out of it – is this the best investment of time for your team? Some social media is expected of a thriving campaign or non-profit, but don't let it take over all your time.
Ready to get started?
You might be lucky and your candidate already has active social media accounts to start, or you may be able to colonize old inactive social media accounts for your non-profit. If so, how do you reshape and relaunch? Or what if you're starting from scratch?
First, for Facebook (where the bulk of your audience is likely to be):
Does your candidate have a personal profile? They can convert it into a page very easily, and you'll have a running start in terms of fans (personal profile friends become fans of the page). (Here's how to do it.) You can then deactivate their old personal account — or not! But make sure you lock down privacy settings if they want to keep their personal account active, also make sure they are only putting non-controversial content out, and perhaps allow followers on their profile too (here's how to allow followers to a personal Facebook profile). But in general, assume that anything on social media has the potential to go very public, whether it's privacy locked or not. Also — even if they're keeping a personal profile, you're going to want to set up a page for the campaign.
Do they have an old page from a previous campaign or defunct organization? You may be able to change the page name and username/URL. But keep in mind that you should never assume it's possible to make changes – Facebook can and does change their policies on this. So it is far better to set up your Facebook page to something titled and URL'd generically like Their Name/voteforx, so they can run for everything from School Board to Senate.
Here's some free and cheap methods to build your audience at the beginning.
Use the "Suggest Page" option to upload an email list of your supporters and automatically suggest the page to them via Facebook. If they are not on Facebook, they will not see your suggestion.

Send an email to your list and ask people to follow you on social media. (Note that a large chunk of your list will not be social media users, so if you have the ability to filter those out with your CRM or a tool like attentive.ly you should do so.)
Once you've maximized the free, you may want to do some cheap geotargeted Facebook ads to boost your supporter base in your district or people who care about your issue locally or nationally. You can limit by zip code, political party, issue interest etc. so you are only talking to your preferred audience.
If any of your Facebook page posts go viral (such as your campaign or organization launch announcement!), there's a trick you can use. Click on the number of people who liked the post (directly underneath the post).


A window will open up, showing you all the people who liked the post. If any of them are not fans of your page, you'll see the option to invite them to be fans. Especially if you paid to boost a post, this is how to get some of those paid Likes to become fans.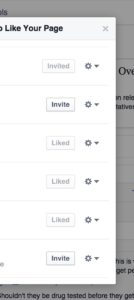 For Twitter (where the influencers are):
Make sure you're following all the reporters and other elected officials in your district/state or who cover your issue beat. Hopefully some will follow you back.
Pay attention to who likes and retweets your content, and follow them (they will hopefully follow back).
Send an email to your list asking them to become social media followers (but it is especially important to be aware that 20% or less of your list is likely on Twitter.)
Upload your list of supporters to Twitter and follow them (in the hopes of them following you back). Note that you can't directly upload a CSV unlike Facebook, but you could upload a CSV to a gmail account's address book and go from there.
Figure out who the influencers are in your state, and follow those people. You can search on hashtags like #mileg or #flleg for example to see who is tweeting about state legislative issues in your state.
In general, you may want to follow some of the major #fbr (follow back resisters) Tweeters – and they will hopefully follow back. There's a nifty tool called Tweepi that may help: you can use it to bulk-follow the people that another account follows. You might want to start with the state party and some of the U.S. Reps. in your state and follow everybody that they follow. Or follow who the major non-profits working on your issues follow.
I would not suggest doing ads on Twitter if you have a limited budget or are anything less than a major city or statewide race – the density in smaller areas is not there so you're likely to pay a lot more per follower. If you have extra funds, Google search ads and targeted Facebook ads would be a wiser use of your digital budget.
Note that these tips are about how to increase your numbers to improve your campaign or non-profit's credibility at or around launch. Actually getting your content seen by supporters is a different problem than vanity Likes.
Also note that I'm covering Facebook and Twitter only, as opposed to the plethora of tools out there – if you're just launching, focus on where the largest audiences are and do them well. Be careful not to over-extend your campaign resources if you don't have a full digital team to staff them well.
P.S. Here's some tips on how to build your email list through social media. And here's some social media best practices for non-profits and campaigns. If you need help with social media for your campaign or organization contact PowerThru, we'd love to help!