If you want to win at the internet, your non-profit or campaign is going to need to capture some email addresses. And that means you're going to need to get signatures on something like a petition or an action. Coincidentally, online petitions and actions can also be SUPER effective at creating political and social change.
But just starting a petition isn't enough – you need people to see and act on that petition. And that means you're going to need to post it on Facebook, where millions of eager people are just waiting to take action. HOW to get those petition signatures is less obvious. It's a subtle art and precise science that we've spend years cooking up at PowerThru. Here's the cliff notes version – for the real recipe, you'll have to call us for a consultation.

Too much is never enough

The first thing you need to do, and be prepared to do, is post A LOT on Facebook. We've been testing at Environmental Action for about 9 months, and I've never found the limit on "too many" posts in a day or even "too many" posts in an hour. As obnoxious as they can be, big digital marketers like UpWorthy and private companies post literally HUNDREDS of times to Facebook each day. But if you're like us and have a small staff, that's implausible. So I suggest setting a goal of posting 3-5 times a day, or about 20 times each week. (Note this does not necessarily hold true for the smallest Facebook pages, where you could be clobbering your audience by posting that much and the drops you'll get will outweigh any benefits. If you have tens or hundreds of thousands of fans though, it should be OK.)
Rates:
This is the part your digital department has been looking for. Our research says that, with the current EdgeRank algorithm in place, a "good" post should generate a reach of ~20% of your Facebook audience. For Environmental Action, with a Facebook audience of ~100,000, that's a 20,000 reach per post to be considered 'good'.
Out of that 20% reach, you're looking for about 1% of the people who see the post click on it. Why one percent; Why not 70%? Well some of that has to do with the frequent posting. People aren't engaging deeply with Facebook posts (spending hours reading and re-reading them, like they would a good book or movie, for example). They're clicking, skimming – maybe signing, sharing and donating if you do your job right, and moving on in a few hours. Given the broad-but-shallow audience, 1% is a good benchmark rate to work off. It's much higher than the number of people who see a SuperBowl ad, and decide to buy a beer because of it, for example. But it's right in the middle of what you'd expect for an email alert to a big or cold list.
More to the point, our experience is that a reliable 75% of the people who click through to a landing page will take an action similar to signing a petition – if you follow the other advice below. Even at a 1% click through rate, that means you'll be generating thousands, maybe tens of thousands of actions (and petition signatures) each week following this drill.

There is obviously lots of room for changes in the model. Having better images increases the reach and click through rate. Having more campaigns running at the same time increases the reach per post (since not everyone signs every petition, and having several at once increases the total number who sign something). Having a bigger list of fans to start from also means you get a larger reach per post. And of course, we should note that Facebook can and does change its algorithm, regularly.
You get the point. this is the model our samurai developed over the last few months, and it's been pretty consistent on the reach and click through rates and % completion/new from there.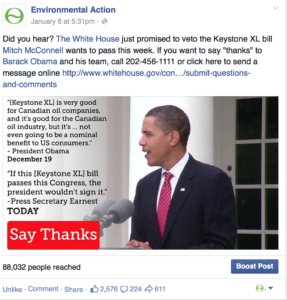 So what are you supposed to talk about?
Pick 3-4 campaigns, either existing things you work on, or consider developing new campaign ideas for a 4 week period. You can post fresh petitions on your CRM – like Salsa, or NationBuilder – or you can use a free tool like MoveOn.

Bonus points: create a short link using Bit.ly or a similar service for each new petition. This makes it easier to track the number of clicks for each campaign, and where they're coming from. If you see a click on the Bit.ly you made, you know it's from your Facebook work. If you see a click on the raw link, you know it's being shared elsewhere. Advanced CRM users can use tracking codes, tags and other tools to do the same thing, with a longer url.

Develop your content. Remember, you're looking for about 20 posts per week. I've seen lots of different things work at least once, but the good old "image with text on top" – shorthanded to 'memes', though that word has a much longer and more storied history – works best. You can also use news articles or video about your campaign, with a link to the petition. But beware – some people will read the article or watch the video, without signing. And their clicks all get recorded just the same unless you use a bit.ly link like we advised above.

Key points for memes and other picture shares: make sure to have call to action text like "sign here to do X" written on the creative.
Think about contrasting colors and images: Use red, orange and warm tones to stand out from the "blue on white" color scheme of Facebook. Consider pictures of the problem (a smokestack to talk about climate change, a photo of Mitt Romney to talk about a Democrat) as well as the solution (solar panels to talk clean energy, President Obama for Dem candidates).
Above all, think visually – don't clutter up the photos with too much text. And pick images that look interesting, startling, alarming or beautiful. If it provokes an emotional reaction about your campaign, it's a good image to use.

Develop text content that will accompany the image post. Make sure to include allied organizations who we can tag using the "@" sign. Type @The White House to tag Obama's social media team into your conversation – sometimes they'll even respond!

Pro tip – Our best posts at Environmental Action have a lively discussion in the comments section which drives up the reach. If your audience is small, and you're not afraid of a little flame-war, try tagging your opponents in the caption: @Ted Cruz, and his tea party followers can't resist calling us liberal-commie-tree-hungers. So why not use their impotent rage to get your content in front of more people? Tag some people you hate in your post – their responses will start a conversation in the comments that will get your post seen by more people. And if they get too annoying, you can always block or ban them.

Got all your posts ready? Awesome. Make a batch of 5-10 and then schedule the posts in Facebook so that they are spread out by a few hours over the course of the week. Make sure to share non-petition news updates and posts from other friendly orgs as well, so your fans don't think that all you want them to do is sign and share all day.