At PowerThru, we pride ourselves on being expert samurai in the art of adding new email members to our non-profit and campaign clients' lists. And while any good samurai knows that the value of a sword is determined by the honor and skill that wields it, we're also super-attuned to new tools and weapons that may make us more effective. So when ActionSprout approached me about setting up a test of their tool, I jumped at the chance to test our mettle. We wanted to see whether their new tools and advertising program could improve on our already sensational low cost of adding new members to our email list. But the biggest lesson learned was that the type of Facebook ad you run matters much more than we initially thought. It's like learning that your stance matters more than the quality of your sword.
We've mentioned before that our client Environmental Action, a national non-profit environmental group, is working to aggressively grow their email list. And like many organizations that invest to grow their own power and capacity to make change, they use online advertising to help reach and acquire new supporters.
As we set out to test ActionSprout, we created two different ActionSprout actions that were related to campaigns we were already running through Convio. We made sure the ActionSprout actions featured the same arresting images and calls to action that PowerThru uses for their Convio campaigns to keep their open and click rates high.
Our goal when we use Facebook ads is to get our message in front of a big audience that wants to take action. We've discussed elsewhere the relative costs vs. likelihood to act of new members based on their method of acquisition, and likelihood to donate of Facebook-acquired members versus other methods. There's no doubt that for sheer volume of people – Facebook is one of the best and most affordable ad platforms available to progressive non profits and political campaigns.
So when we were approached by the ActionSprout team to run some tests with their Facebook App, we jumped at the chance not only to use the tool, but to compare notes with their team of expert social media marketers.
If you're not familiar with ActionSprout, it's a Facebook app that allows end users to take actions right inside Facebook with just a click, and is mobile optimized— instead of linking out to a petition hosted on your CRM, or jankily importing it with an app or frame.
The original goal was to test ActionSprout social actions versus our traditional Convio petitions to learn which drives the lowest cost per action and per new member. But something unexpected happened in the testing and we ended up stumbling upon a huge difference between Facebook's 'Page Post Engagement' type ads vs 'Website Conversion' ads for acquiring new members through the platform. Long story short is that the type of ad you use on Facebook appears to have a huge impact on the cost per new member acquired. We now recommend testing both Conversion ads and Engagement ads in an ongoing way for Facebook advertising projects.
Let's dig in. A table with the full results (minus some proprietary budget and audience details) is further down. But here's what the test looked like from the user side:
Engagement ad linking to ActionSprout            Conversion ad linking to action on Convio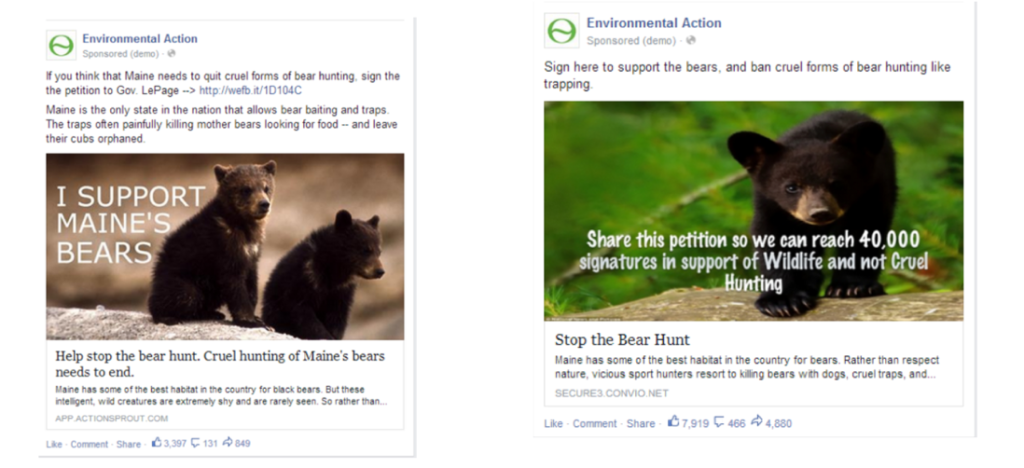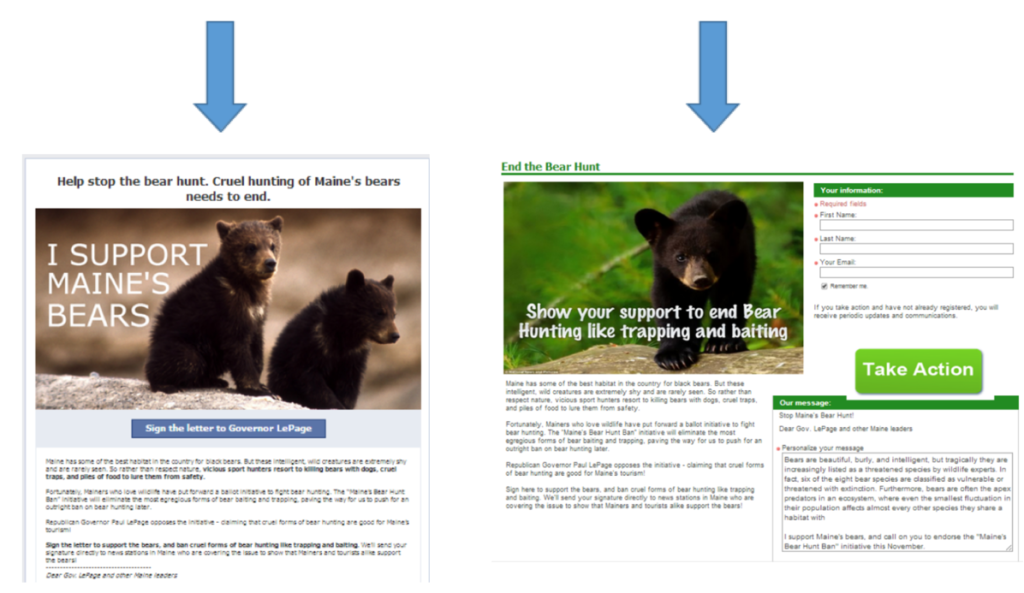 During our test from July 10-28, the ActionSprout team set up two actions for us – one to protect Gray Wolves in the wild, and one to support a ballot initiative limiting cruel bear hunts in Maine. We also gave their team access to post on our Facebook pages, and a daily budget to promote posts using Engagement ads. At PowerThru, we then ran a flight of Conversion ads on the bear campaign that linked to our CRM action page on Convio. For the sake of a balanced test, I've also included the results from an earlier flight of wolf advertising we did that linked to a Convio page. The timing is different, but the spend, audience and reach are all very similar.
Let's talk about cost/action first: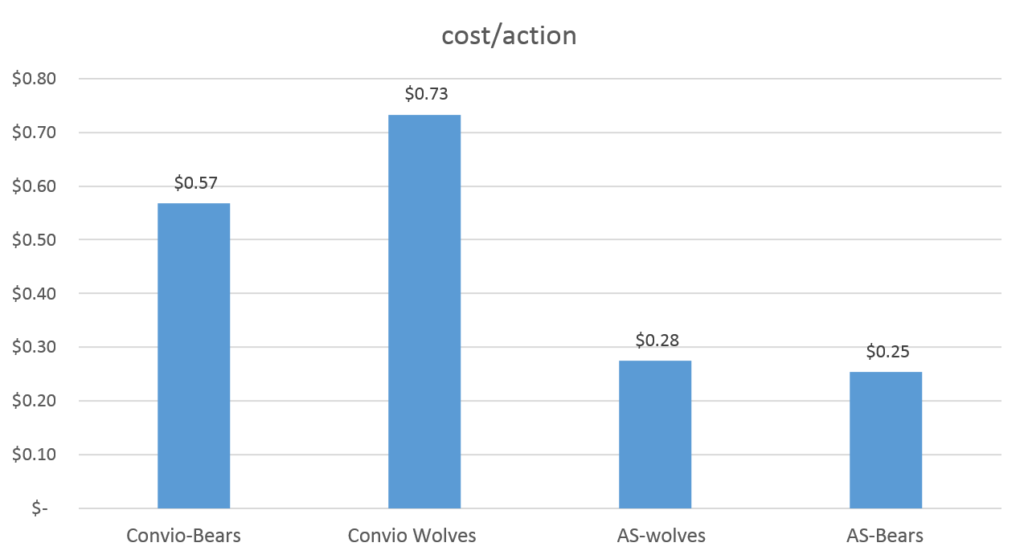 As you can see, ActionSprout + Engagement ads were far more efficient than Convio + Conversion ads at generating the actual petition signatures. This makes sense, because ActionSprout is a Facebook App that fits seamlessly into the user experience. When members click the link to an ActionSprout action, they didn't think of their action as 'leaving Facebook' — they just clicked on a post that moved them (usually a photo of a cute bear or wolf) and then authorized the app to complete the action and automatically share the action with their friends.
Even better, the whole experience is optimized perfectly to work anywhere Facebook does – specifically on a mobile phone, a tablet, or a desktop. The growing majority of Facebook users are checking in on on mobile — so being able to reach them through ActionSprout is a great advantage. That versatility and consistency are the big reasons (we think) that ActionSprout is such a great value.
And we found that this all added up to ActionSprout having an average completion rate (actions/views) of 60% while the Convio page had closer to 40%. People were just more likely to complete the ActionSprout action than they were the Convio form.
After the test was completed, we ran the number of new email addresses acquired by the two tools and we were blown away by the results. What we found was that while ActionSprout + Engagement ads delivered a lower cost per action completed, the Convio + Conversion ads ended up providing a much higher percentage of new email addresses. Here's what that looks like.
As we looked at the data, there really is no good reason for a Convio action to be better at targeting and acquiring only new email supporters while somehow avoiding current email supporters. So the big question is why the huge difference between Conversion ads and Engagement ads.
We will be doing a follow-up test using the exact same ad type with Convio and ActionSprout to get to the bottom of this. But here's our current working theory:
It looks like Engagement ads target your closest network of supporters first to meet its goals for like, shares and comments – this can make it very effective for low-cost actions. On the other hand, Conversion ads seem to go further afield when searching specifically for action-takers, making it potentially better for organizations with large email lists.
We recommend testing both ad types to get to the bottom of it for your particular organization — and stay tuned for our next test with CRM and ActionSprout!
A couple of caveats worth noting:
We're comparing advertising costs / actions and acquisition here, but not all groups want to or can afford advertising. If you're not running ads right now, ActionSprout is still totally worth looking into because its actions are, by definition, way more viral than your CRM actions. If you're like most of us, you ask people to sign a petition or letter to congress, and then there's a tell a friend page and maybe a follow up email where you ask them to share that action on facebook. But with ActionSprout the whole thing is baked into one pie – signing and sharing are the same step. So just consider what it would do to your viral pass-along rates if 100% of your petition signers shared the action on Facebook and you'll get a sense of the value.
The audiences and ad spend for the Convio actions were much bigger – which is mostly a result of those campaigns having been run for several weeks before the test period with ActionSprout. It's possible if we'd spent months, instead of a few weeks, promoting the ActionSprout pages and/or given them a bigger budget (so as to reach that bigger audience), they would eventually bent the curve upwards on new names. Something we'll look into in the next test.
The Conversion ad campaigns for bears and wolves are far and away the best performing newsfeed ads we've run. Paid acquisition costs from vendors like Care2 or Change.org routinely run $1.20-$2.00 / new email, and our goal is always to beat that price. Basically, we want to invest client's money in the cheapest, most effective means to grow their list on any budget. But beating the price by 100% is unusual, and impressive. Under any circumstances, we're elated to see new members roll in at $.83-.85/ new (plus tons of Facebook likes and shares).
There's a lot of art and science using Facebook to build your list and drive action. The team at ActionSprout is really good at it, and so is the team at PowerThru. If you're not generating thousands of new email opt-ins every week, at a price of $1/record of less you should really call us both. ActionSprout can give you a new tool, and the technical advice to use it well. Whether you use that tool or not, PowerThru can help you build your list so you can wield more power, raise more money, and win more elections and votes.