What an election night (and GOTV month) we had at PowerThru. We took back the House! And won up and down the ballot. Like a lot of you, I was bummed to lose high-profile races like Beto in Texas and Ben Jealous (MD). And Andrew Gillum conceded too soon in FL – Stacey Abrams (GA) has the right idea fighting for every single ballot to be counted– now both the Florida Senate and Gubernatorial races may be headed towards recounts.
But for every race lost, there were more that won. Democrats won 30+ House pickups, and they're still counting ballots! We picked up seven (7!) Governorships! And it's not just that Scott Walker lost (though good riddance, Laura's very first project with PowerThru was working on the Wisconsin recalls), it's that we elected strong WOMEN governors in states like Michigan and Kansas. That, combined with the passage of Measure 4 in Florida, which we were excited to support along with Voter Rights Action and our client Campaign For America's Future, is going to reshape the map on elections in this country. We're sweeping out corrupt, anti-voter politicians as chief executives, and installing progressive, pro-voting leaders.
Given how badly gerrymandered the House map was after the 2010 election, Democrats needed to win the national popular vote by 5% or more just to take the chamber. Instead we won by closer to 10% – an absolute thumpin' for Republican values and ideas – even if some seats were too gerrymandered to win and Trump is too narcissistic to notice.
But more important than where we won and lost, is how we fought this election and who we fought for. Because we didn't just win, progressives made history by sending a diverse set of progressive champions to Congress. Champions like Deb Haaland and Sharice Davids, the first two indigenous women elected to Congress. Like Rashida Tlaib and Ilhan Omar, the first two Muslim women ever elected to Congress; and like even Alexandria Ocasio-Cortez, the youngest person (and a woman of color to boot) ever elected to Congress.
For progressive Democrats like us here at PowerThru, we didn't just win, we had a great night on Nov 6, 2018 – and so did Democrats and progressive candidates and causes all over the nation. Here's a quick rundown of what we've been doing and what went well, in alphabetical order:
Friends of the Earth Action
I spent the last few weeks before the election glued to my computer as part of the Friends of the Earth Action GOTV program. This was a new project for FOE-who hasn't run an aggressive, volunteer-led program in the past few years. But boy howdy did they go big this year:
FOE Action volunteers and supporters made over 200,000 phone calls and text messages to voters in key states in just 10 days. And what's more, it worked: 15 of the 25 candidates FOE Action endorsed won!
FOE Action endorsed candidates included leaders like Haaland, Tlaib and Omar who aren't just progressive – they're immune to the corruption of corporate polluters. They, along with 19 of the 23 new Democrats just elected, all signed our pledge to reject money from the Fossil Fuel Industry. Watch for FOE and other allies to begin pushing the envelope on Congressional climate action soon. I for one am excited to be a part of that.
Check out the report-back slide deck I made them for the full list of winners and get-em-next-timers.
Health Care
Health care was the number one issue for voters across the country, and especially here at PowerThru. Since her cancer diagnosis last year, Laura's focus has been on health care and saving the ACA from Republican attacks. She serves as co-chair of the national organization Health Care Voter, and founded a new non-profit to organize adults with serious medical conditions, Voices of Health Care.
Over the summer and fall, Laura worked with Be A Hero to help amplify their first-of-its-kind conditional fundraising campaign with Crowdpac to hold Susan Collins accountable if she chose to support Brett Kavanaugh for the Supreme Court. Senator Collins DID vote for Kavanaugh, but 4 million dollars was raised for her future opponent. She will regret that vote in 2020.
Then Laura spent the last 6 weeks of the election on the road with Protect Our Care on the health care bus #CareForceOne, traveling over 11,000 miles, visiting 24 states, telling her story and holding the GOP accountable for their health care sabotage.
She also ran an innovative IE campaign for LPAC, taking on Leah Vukmir and Martha McSally on social media and holding them accountable for their threats to people with pre-existing conditions, women's reproductive access, and Medicare/Medicaid/Social Security. Looks like we're 2 for 2 on that IE! Our work in Wisconsin and Arizona was critical in turning out every last vote to defeat Scott Walker too, and put Kyrsten Sinema over the top.
And last but not least, after starring in 2 TV ads, doing countless events and op eds in both Reno and Las Vegas, she had a very sweet victory night at home in Las Vegas: witnessing Dean Heller lose to Jacky Rosen, her congresswoman, and helping elect Susie Lee as her new congresswoman as well as seeing Democrats turn Nevada blue from top to bottom.
Always helpful, Laura had some sage advice for the now-former Senator who voted to take away her heath care (unsuccessfully) and threw her out of a town hall meeting for asking why:
Dear @DeanHeller, I know things look bleak. But remember this: you are now eligible for a great health insurance plan through https://t.co/txiPAgsclp! But hurry up, open enrollment ends Dec 15. 💋💋

— Laura Packard (@lpackard) November 7, 2018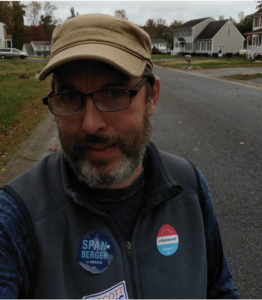 Websites and more
Jon spent the last day or two before the election canvassing in Virginia for Abigail Spanberger. but before that he had his hands full launching new websites for clients like FLIC Votes, the C4 and election arm of the Florida Immigrant Rights Coalition; and for Congresswoman Debbie Dingell – a long-time friend of the firm who we were delighted to see re-elected to a third term on Sunday. Especially now that she'll be joined by more than 100 other Congresswomen, the biggest female class in history.
Also congratulations to Kristina Bogardus, a new Democratic judge of the New Mexico Court of Appeals. Jon helped her get started as one of our first DemCampaignSites candidates, and she won!
Here's a picture of Jon on the campaign trail – since it's more photogenic there than on his computer.
Yes on W
Finally, we're excited to announce that Measure W in LA County passed the 2/3rds support it needed early on Nov 7, which will raise about $300 million annually for LA County projects that collect and clean stormwater before it gets discharged into local waterways or stored for local use.
Laura and I worked on YesOnW's social media campaign over the last few weeks, with some notable highlights including an endorsement from Leonardo DiCaprio, two Twitter storms, and a chance to work with lots of great LA County environmentalists. Hurrah for saving the rain!
Thank you for voting #YesonW pic.twitter.com/TBGUwZSAWA

— OurWaterLA (@ourwaterla) November 7, 2018