The Petition Widget Builder application for Salsa allows users to create an embeddable widget version of your Salsa petitions. This package will allow many different individuals and organizations to embed your Salsa petitions on their own websites.

Interested in buying, or to find out more? Send us an email today.
Your widgets will display basic information about the Salsa petition:
* Image included in the widget
* When the user of the widget clicks a button they see a pop-up window that allows them to view a longer description of the action
* The user then enters their contact information
* The user can decide to check the 'opt-in' box if they want to hear from you via email on future campaigns. The pop-up box will include privacy/terms language that appears on current petitions along with corresponding links.
* The signer's information, along with tracking, will be automatically entered into your Salsa center.
* A user choosing to download and install widget code will have the choice of two different layouts: Version 1: Sidebar style size or Version 2: Banner style size.
Click on the image below to view the full size.
1. First you give your widget a reference name, then choose a style, and assign an existing petition.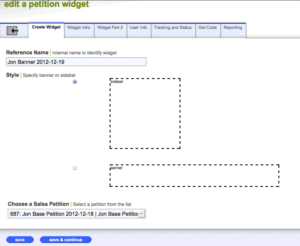 2. Then you assign the text which will show up on the embeddable widget. You can have a goal thermometer which either counts the actions taken from the widget or from the entire action. Branding can be assigned with an image and text.  There are also various CSS style elements to style the widget.
3. Next, enter the text to show up on the larger action pop-up. Assign a redirect URL once an action is taken.
4. Now assign which fields you want the user to fill out.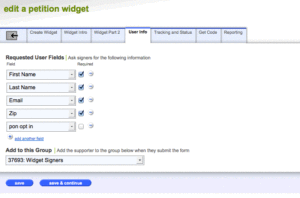 5. Each widget can have its own tracking code along with the ability to include Google Analytics tracking code. You can switch the state of a widget to expire or to replace it with another active widget.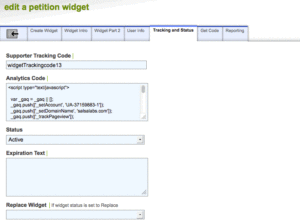 6. Grab your embeddable code to place onto your website.
7. View stats for your widget.

8. Here is the widget created by the code.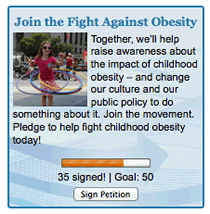 9. And the popup created when the widget is clicked.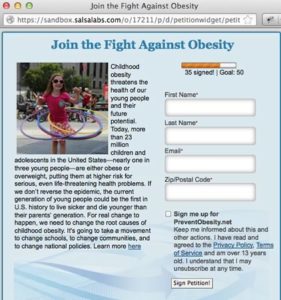 Comments
comments