Deciding to Go
I wasn't planning on going to Netroots Nation this year. The price tag looked steep and when you add in airfare and a hotel, I knew it would cost me nearly $1000 just to go. Something for the future, I thought. But this year I just couldn't swing it.
I was surprised and flattered when my coworker Mike mentioned that I would be a good candidate for a Democracy for America Netroots Nation scholarship, and that I should apply. A scholarship to a conference? It sounds daunting. But with the prodding and encouragement of my coworkers, two of which had already won Netroots Nation scholarships in the past, I felt it couldn't hurt to throw my hat in the ring.

I spent entirely too much time on my scholarship application. The short version: "Jewish Latina & pro-choice adoptee, I am a wonky progressive activist who enjoys writing about econ, health care, gov reform & foreign pol" After spending almost a day pouring out my whole life story for all of the internet to see, I reviewed some of my competitors' applications. Where they wrote one or two sentences, I wrote a novel. Clearly being concise is not my strong suit.
But long application and all, I was satisfied with what I had submitted. The second part of the DFA Netroots Nations scholarship application process was encouraging my friends, coworkers and fans to vote for me. Now this, I dreaded. I really hate asking people to do anything for me, even if it only takes 30 seconds of their time. And perhaps I should have posted it more on Facebook and Twitter than I did. But when the deadline neared, over 120 friends and family members voted for me. Honestly, even if I didn't win, just knowing I had the support of my loved ones was enough of a prize for me.
But just a few weeks before the conference would start, I got the news that I won! Before I knew it, I was on a plane en route to San Jose for Netroots Nation 2013.
Validation, and Meeting People Just Like Me
Sometimes I have to remind myself that yes, I am following my dreams and yes I can do this! I don't always feel that way. Politics has a way of making you feel included sometimes and excluded at others. And sometimes I've felt like I just didn't fit in or belong.
But I never felt that way at Netroots Nation, where I met hundreds of people just like me. Better yet, these people wanted to talk to me, get to know me, and potentially even work with me. And while my job title as Online Organizer is nondescript and confusing to most, I met dozens of people who had similar jobs as me, who shared my everyday frustrations and successes, and who were just as passionate about progressive activism as I was. And as cheesy as it is to say, I felt right at home. I remember feeling during the whole weekend, this is right where I need to be.
Meeting Your Heroes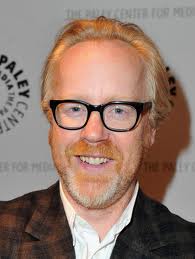 Sometimes activism is a thankless job. You pour your heart and soul into something you care passionately about, only to wonder if it really makes a difference.
So I was surprised and overjoyed when so many people knew the small banking reform group I used to run, called the Move Your Money project, before joining PowerThru. You mean people actually knew about my work beforehand? No way!
But even better than my recognition, was recognizing some of my heroes that I never imagined I would meet in a million years. From the twins behind Occupy Democrats to the famed Hostess worker who helped lead a strike after the company stole its employees' pensions, to the young whiz kid behind Addicting Info–a website I love to read, I met lots of amazing and interesting people who after just a few short days I know will be friends for a lifetime. Oh and did I mention that I met Adam Savage of Myth Busters? Yea, that happened.
Seeing my virtual co-workers in person!
I normally can't stop raving about how great it is to work for a virtual company. The increased quality of life, the faster turnaround for work, the flexibility to have children or care for an ailing family member, the ability to travel or live wherever you want, and of course, being able to work in your pajamas and cook yourself lunch every day doesn't hurt either.
But while PT has made a huge effort to get rid of the isolation that some virtual offices have with a shared chatroom, you just can't replace face-to-face interaction. So while some people may take for granted seeing their fellow coworkers, here at PowerThru we see it as something to cherish. Winning 8th place at Trivia Night and grabbing a delicious Thai lunch with my coworkers might not sound all that exciting to you, but for me it was one of the highlights of my trip.
Next Year
If you hadn't heard already, Netroots Nation will be in Detroit next year–much easier for us East Coasters to swing. Will I be going? Absolutely. And I hope after reading my post, I convinced you to join us next year too.
Comments
comments