Use Salsa to manage all aspects of a member/fundraising door canvass with our Field Canvass tool for Salsa by PowerThru. Now Salsa can be your field tool as well as your fundraising and membership management tool.
Enter, monitor, and report results by individual canvasser, canvasser team, or canvass office.
Every conversation, donation and political action can be tracked back to the individual staffer responsible, and it's all recorded in Salsa automatically.
Fully integrated with Salsa, all data is collected and recorded in your Salsa database in real time so credit cards process instantly, and appear in a supporter record. No more scribbled forms that need to be deciphered and entered by hand into Salsa after the fact, with multiple errors and missed donations! Outfit your canvassers with tablets for real time information collected at the door.
Also enables automated welcome or thank you emails, follow up emails for donor pledges etc. to handle followup from your door to door work, to immediately integrate new supporters into the email stream.
All parts of the tool are rigorously tested on multiple browsers, and in use right now by satisfied clients.

1. You can select a canvass date, assign a field manager, and add team members to the field manager on the date selected.
2. As a team member after your field canvass, you can set down and select the date of the canvass, your field manager, and you can select your name from the team list.  You can also enter your walk sheet totals to compare to your entered totals after you enter your data.
3. Now the team member is logged into the system, they can search for a member by ID or add a new member to the database.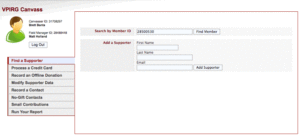 4. The team member can verify the correct supporter has been found.
5. Now you can enter your data.  You can process a credit card, record and offline donation, modify supporter data, record a contact, add a no-gift contact, add small donations (way to record a small donation which does not get associated with a specific supporter).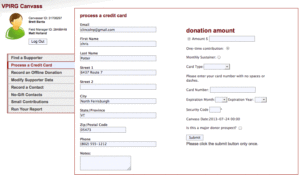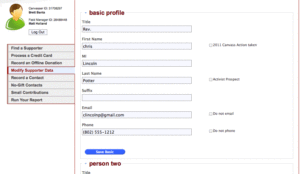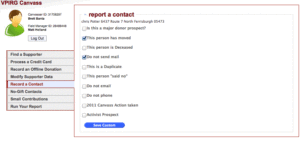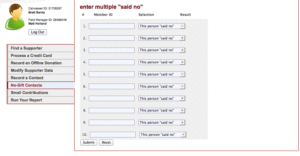 6. When data entry is complete, a report can be run to compare against the walk sheet data entered when the team member logged in.
Have more questions or interested in using the Field Canvass tool for your organization? Contact PowerThru today!
Comments
comments